The Marvels
Showing Today
The Marvels session times today, The Marvels online ticket booking available in cinemas all over Australia, such as Event Cinemas, Hoyts, Palace Cinemas, Dendy Cinemas, Reading Cinemas, Cineplex, Village Cinemas and more.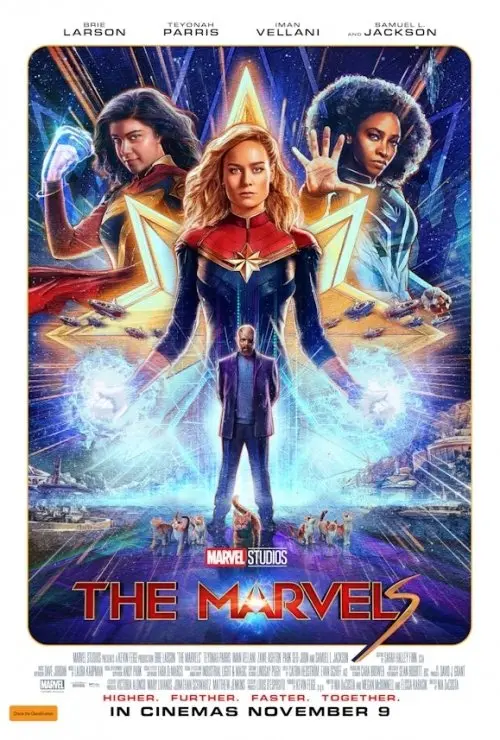 DirectorNia DaCosta
CastsBrie Larson, Samuel L. Jackson, Teyonah Parris, Zawe Ashton, Iman Vellani, Park Seo-joon, Zenobia Shroff, Saagar Shaikh, Mohan Kapur, Jessica Zhou, Caroline Simonnet, Emily Ng, Vinod Dhawale, Luke Dixey, Kei Ichimura, Colin Stoneley, Jonathan Cope, Kamara Benjamin Barnett
Duration105 minutes
RatingM
GenreAction, Adventure, Fantasy, Sci Fi
Trailer & Synopsis
In Marvel Studios' "The Marvels," Carol Danvers aka Captain Marvel has reclaimed her identity from the tyrannical Kree and taken revenge on the Supreme Intelligence. But unintended consequences see Carol shouldering the burden of a destabilised universe. When her duties send her to an anomalous wormhole linked to a Kree revolutionary, her powers become entangled with that of Jersey City super-fan, Kamala Khan aka Ms. Marvel, and Carol's estranged niece Captain Monica Rambeau. Together, this unlikely trio must team up and learn to work in concert to save the universe as The Marvels.
The Marvels is now showing in cinemas since November 08, 2023 until today
SESSION TIMES IN SYDNEY
(Today) Dec 08, 2023
Change location
The Marvels showtimes today in Sydney. To change the location, simply click the City option above. The ticket price will appear if available, the ticket price is subject to the first sessions, the next session may vary.
To buy The Marvels ticket online, click at the session time button below.